Treasurers:
July 1 through August 31, 2015 the Department of Oregon is giving back 50 cents per member for percaps.  This means that for this month and next you will only send in $9.50. September 1, 2015 they go back up to $10.00.  Lets HURRY and get this taken care of, 50 cents may not seem like much but once you start adding them all up it can add up quick. There are some awards for getting membership in early so lets try to get as many in as we can now so we can save some money on the percaps, get to 100%+, and get in on some of the awards for being first to 100%.
---
VFW Post/Auxiliary 4248 wanted to show everyone what their Post home looks like. As soon as I can figure out how to get this on with the rest of the pictures that scroll through they will be added to that line up.  If your Auxiliary would like to have photos on the web site please send them to orauxweb@outlook.com as an attachment and I will be more than happy to get them on the website.  Thank you so much VFW Post/Auxiliary 4248 for sharing this really cool picture of your building.  Chris, website editor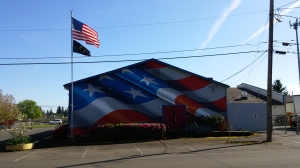 ---
ALL OF THE NATIONAL RESOLUTIONS AND RITUAL CHANGES ARE AVAILABLE TO VIEW ONLINE ON THE NATIONAL WEBSITE. IF YOU HAVE ANY QUESTIONS OR PROBLEMS LOGGING ON TO THEIR SITE PLEASE FEEL FREE TO CALL JAN HALVERSON, DEPT SECRETARY, FOR ASSISTANCE.
---

LADIES AUXILIARY TO THE VETERANS OF FOREIGN WARS
DEPARTMENT OF OREGON
LADIES AUXILIARY TO THE VETERANS OF FOREIGN WARS
DEPARTMENT OF OREGON GENERAL ORDERS #1
2015-2016 SERIES, JULY-AUGUST 2015
MUST BE READ AT THE FIRST REGULAR MEETING FOLLOWING
RECEIPT BEFORE BEING FILED FOR REFERENCE;
THE OREGON VFW SHALL BE DEEMED SUFICIENT AND LAWFUL
NOTICE TO ALL DEPARTMENT MEMBERS FOR ANY AND ALL PURPOSE
1. Having been duly elected at the 87th annual convention of the Department of Oregon Ladies Auxiliary to the Veterans of Foreign Wars of the United States, in accordance with Section 801,804,804D Article VIII of the National Bylaws and having been legally installed, the undersigned hereby assumes the office of President, Ladies Auxiliary to the Veterans of Foreign Wars of the United States Department of Oregon.
2. By virtue of the power vested in me as President, I hereby declare all previous Ladies Auxiliary appointments null and void. Current elected and appointed officers and chairmen can be found in your 2015-2016 roster.
3. Dues may be collected on continuous members and new and life members may be accepted as of July 1, 2015. Please see that all dues are remitted to the Department Treasurer in a timely manner. NO DUES NOTICES WILL BE SENT FROM NATIONAL!
4. Ladies Auxiliary Secretaries: Please report immediately any change in the name or address of the President, Secretary or Treasurer of your Ladies Auxiliary. Changes are to be reported to the National and Department Secretary.
5. Please check deadline dates for Voice of Democracy, Patriots Pen, Patriotic Art and other contests in the works.
6. Please get your contributions of $2 per member for Cancer Aid & Research and $1 per member for Hospital sent in as soon as possible. Remember, monies must be sent in on ALL members-annual and life.
7. Please send monetary donations for Ladies Auxiliary programs to the Department Treasurer and earmark all checks appropriately.
8. Ladies Auxiliary School of Instruction will be held in Molalla on 8/1/15 at 10AM, Sutherlin 8/8/15 at 10AM and Pendleton 8/15/15 at 10AM. All members should plan on attending a School of Instruction as there are once again changes occurring during the upcoming year. Ladies Auxiliary Treasurers-Please bring your kit that you received from National with you to the School of Instruction for use and review during the Treasurer's workshop.
9. TRUSTEES: Second quarter audits (April-June) are to be mailed to the Department Treasurer no later than July 30, 2015.
10. The National President's Homecoming is scheduled for September 17-20, in Anchorage, Alaska.
11. Ladies Auxiliaries shall drape their Charter for 30 days in memory of Past National President Mona Longly who passed away May 25, 2015.
12. By order of National President Ann Panteleakos, the Charter of Rye Grass Auxiliary #2105 is hereby cancelled as June 1, 2015.
By Order of:                                                                                                                                Attest:
Rose Marie Allyn                                                                                                                         Jan Halverson
Department President                                                                                                                Department Secretary
---
2015
SCHOOLS OF INSTRUCTION
SATURDAY, AUGUST 1, 2015
MOLALLA, OREGON
@ MOLALLA GRANGE
START TIME 10AM
SATURDAY, AUGUST 8, 2015
SUTHERLIN, OREGON
@ THE SUTHERLIN SENIOR CENTER
START TIME 10AM
SATURDAY, AUGUST 15, 2015
PENDLETON, OREGON
@ THE VFW HALL
START TIME 10AM
THERE WILL BE A CHARGE FOR ANY LUNCH PROVIDE.
************************
ALL NECESSARY PROGRAM BOOKLETS, ANNUAL FORMS AND INFORMATION WILL BE DISTRIBUTED AT THIS TIME. PLEASE HAVE SOMEONE PRESENT TO PICK UP ALL INFORMATION
********************
ALL CHAIRMEN AND OFFICERS WILL BE PRESENT TO ANSWER QUESTIONS AND OFFER ASSISTANCE
*********************
TREASURERS AND SECRETARY SCHOOL OF INSTRUCTION HELD AT THIS TIME. PLEASE BRING YOUR TREASUERS KIT AND THE NEW SECRETARIES BOOK. NEW INFORMATION AND HANDS ON TRAINING. OUR NATIONAL RECRUITER/TRAINER WILL ALSO BE HAVINGA TRAINING SESSION!!!!
******************
COME ENJOY A DAY OF LEARNING, SHARING IDEAS AND FRIENDSHIP
---
WEB SITE  EMAIL ADDRESS CHANGE
The Auxiliary web site has a new web master. Please send anything you want put on the web page to orauxweb@outlook.com. Make sure it is in Word and is sent as attachment. Also please make sure there is a subject of where you want the information to go (ie Membership, Events, Americanism, ect.) If this is not possible for you to do please send it to me either by email or snail mail. THANK YOU very much Jessie Stober for all the work you have done getting this web page up and running for the Department. Jan Halverson, Department Secretary.

Print Friendly