Cortina Barnes, Past National President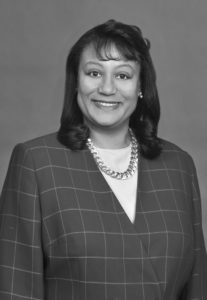 Past National President Cortina Barnes of Herndon, Virginia, continues to serve the Ladies Auxiliary to the Veterans of Foreign Wars of the United States as Chairman of the National Budget Committee.

In 2010‐2011, she led 540,000 members under her theme "United by Love for Our Veterans and Country."

A Life Member of Woodbridge Auxiliary #9755 in Washington, D.C., she is eligible through her late father, Benjamin F. Willis, who served in the United States Army from 1944‐ 1946 in the European Theater.

Since joining in 1987, she has served the organization in several capacities, including Auxiliary President, and Department of District of Columbia President, for which she earned 2000‐2001 Outstanding President of the Year in her membership group. She has served several terms as Auxiliary Treasurer, Auxiliary Secretary, and Department Secretary.

Barnes has been employed by the federal government for 37 years. She works for the Department of Defense Human Resources Activity outside of Washington, D.C., as a Resource Manager. She received a Bachelor of Arts degree from Duquesne University in Pittsburgh, Pa.

She is a Life Member of the VFW National Home for Children, a member of Sodality of Our Lady at St. Francis de Sales Church, American Society of Military Comptrollers and the Military Order of the Cooties Auxiliary (MOCA).



OREGON VFW LADIES AUXILIARY
The Oregon VFW Ladies Auxiliary was founded for the soul purpose of serving those who have protected our country and see that they are protected in return. How do we achieve this goal?
By reaching out with help in communities across America.
Offering innovative programs
Standing up for veterans rights in Washington, D.C.
We can't do this without your generosity. Please consider a tax deductible donation to your Oregon VFW Ladies Aux.

Print Friendly