SPECIAL ORDER #2
By order National President Colette Bishop Crater Lake Auxiliary #1833 is canceled due to lack of attendance and lack of interest. This took effect on October 24, 2016.
Department President Attest
Jessie Stober
---
Mary Stroud
National District Council Member #17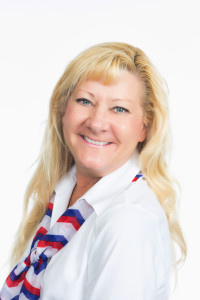 2015‐2017
Mary Stroud, of Hawthorne, Nevada, represents Nevada, Oregon and
Utah on the National Council of Administration, which governs the
Veterans of Foreign Wars of the United States (VFW) Auxiliary
between National Conventions.
Installed at the 102nd National Convention in Pittsburgh, Pa., she is
serving a two‐year term as one of 28 representatives who make up the Council along with the top seven
National Officers, the National Chief of Staff, and the four Junior Past National Presidents.
A Life Member of John Franklin Shain Auxiliary #2313, she has served in many capacities for the
organization including Auxiliary and State President. On the National Level she has served as
Ambassador for the Americanism/Patriotic Instructor program.
She joined on the eligibility of her husband John, who served in the Air Force for 21 years.
In her spare time she enjoys reading, drawing, fishing, gardening and traveling.
Mary's family includes husband John, five children and ten grandchildren.
---
Voice of Democracy Banquet Tickets Shilo Inn, Portland Oregon January 28, 2017 TICKETS ON SALE NOVEMBER 1 Dinner Entrée: Choice of: Marinated Beef Tri-Tip (w/mashed potatoes) $35.00 Chicken Marsala (w/ rice pilaf) $30.00 Pacific NW Salmon Filet (w/ rice pilaf) $35.00 Chef's Choice of Vegetarian Meal $30.00 All dinners include: Garden Salad, Chef's choice vegetables, Rolls & butter, and the best Carrot cake Lunch: Baked Potato Bar (Baked Potato, butter, cheese, onions, bacon, chili, sour cream & chives $15.00 If you have allergies or special diet, please let department know so we can notify the banquet service. ALL SEATS WILL BE RESERVED AND PAID FOR AT THE TIME OF ORDERING (NO EXCEPTIONS) If you plan to sit as a group, all money and names must be sent in together also, please note if you have a big group and will take up more than one table please list who will sit at each table. ALL Tables will have a seating of TEN TICKET DEADLINE JANUARY 16, 2017 PLEASE SEND DISTRICT WINNER SEPARATELY DEPARTMENT PAYS FOR THE DISTRICT WINNERS AND THEY WILL SIT AT THE HEAD TABLE. BEEF TRI-TIP $35.00 Qty: _______ NW SALMON FILET $35.00 Qty: _______ TOTAL MONEY ENCLOSED CHICKEN MARSALA $30.00 Qty: _______ $______________ VEGETARIAN MEAL $30.00 Qty: _______ LUNCH: BAKED POTATO BAR $15.00 Qty: _______ NAME: ________________________________________________________________________ ADDRESS: _____________________________________________________________________ CITY: __________________________ STATE: _____________ ZIP: ___________________ ADDITIONAL NAMES: ___________________________________________________________ __________________________________________________________________________________ DISTRICT: ___________ POST: ________ PLEASE MAKE CHECKS PAYABLE TO: DEPARTMENT OF OREGON VFW WE ALSO CAN ACCEPT VISA/MASTERCARD SEND TO: VFW DEPARTMENT OF OREGON, 12440 NE HALSEY ST, PORTLAND, OR 97230 DEADLINE FOR ORDERING JANUARY 16, 2017 NO REFUNDS AFTER THIS DATE PICK UP BANQUET TICKETS SATURDAY AT THE CONFERENCE
---
VOICE OF DEMOCRACY/MID-WINTER
28 JANUARY 2017
Shilo Inn Suites –Portland Airport
Rooms: 2 Queen or 1 King $94.00 plus tax
Contact info:
Shilo Inn Suites- Portland Airport
11707 NE Airport Way
Portland, OR 97220
503-252-7500
Request: Veterans of Foreign Wars
Group block
Reservation Deadline is: 29 December 2016
---
VETERANS AND FAMILY SUPPORT
Check out what is new and upcoming.
RAFFLE TICKETS $5.00 EACH OR 5 FOR $20.00. 100% OF THE PROCEDES GOES TO VETERAN AND FAMILY SUPPORT TO THE VFW.
EVERYONE CAN HELP SUPPORT VETERANS AND FAMILY SUPPORT (and the monies stays in Oregon).
I have had the pleasure to receive a Custom Made Fishing Rod by Lawrence Brown of Richland, OR. He has made this especially for the VFW and with permission from National Headquarters the VFW Emblem has been embedded in the handle of the rod and an American Flag is applied to the top of the reel holder. This is a 6' 1.5" ultra/medium weight rod. Line is 4 to 10 pound test line. Handel is Canary Wood (hand turned) and handle goes all the way through with Blue rod with Electric Blue Metallic thread.
You will be able to purchase Raffle tickets at all Schools of Instruction, Mid-Winter Conference and at Convention. The winning ticket will be drawn the Friday evening of State Convention. I will also be selling these tickets via the mail. The Raffle tickets are a single ticket. To purchase them through the mail please send check Made out to VFWA Rod Raffle and send to Debi Duggan, PO BOX 143, Richland, OR 97870 with the name, address and phone number and a copy of the filled out ticket will be mailed back to you and the original put in sealed box. Any questions please call me at 541-403-4331.
The VFW Auxiliary has been asked to help support our Veteran's Service Officer for Oregon. Their funds are slim and our help is desperately needed. The following contest is being offered to ALL Auxiliaries in Oregon.
Make a Donation to help the VSO Office of Oregon by sending it to Sonya Sallee, Department Treasurer. She will give me a list of all Auxiliaries that donate and the names will be put in a container and the winner will be drawn at Mid-Winter Conference in January 2017. No amount is too small, every dollar helps. The winning Auxiliary will receive a $25.00 check. (Just a hint – donate it back to the VSO and challenge all Auxiliaries to match the amount between Mid-Winter conference and State Convention). There will be a second drawing at State Convention and the winner will also receive a check for $25.00 for their Auxiliary. Remember we are here to support ALL Veterans and this support is greatly appreciated.
Loyally
Debi Duggan
Chairperson Oregon Veterans and Family Support
---
WEBSITE CONTACT INFORMATION:
Please send anything you want put on the web page to JessieStober@Molalla.net. Make sure it is in Word and is sent as attachment. Also please make sure there is a subject of where you want the information to go (ie Membership, Events, Americanism, ect.) Thank you, Jessie

Print Friendly