---
Mary Stroud
National District Council Member #17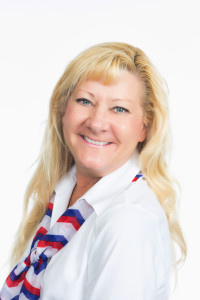 2015‐2017
Mary Stroud, of Hawthorne, Nevada, represents Nevada, Oregon and
Utah on the National Council of Administration, which governs the
Veterans of Foreign Wars of the United States (VFW) Auxiliary
between National Conventions.
Installed at the 102nd National Convention in Pittsburgh, Pa., she is
serving a two‐year term as one of 28 representatives who make up the Council along with the top seven
National Officers, the National Chief of Staff, and the four Junior Past National Presidents.
A Life Member of John Franklin Shain Auxiliary #2313, she has served in many capacities for the
organization including Auxiliary and State President. On the National Level she has served as
Ambassador for the Americanism/Patriotic Instructor program.
She joined on the eligibility of her husband John, who served in the Air Force for 21 years.
In her spare time she enjoys reading, drawing, fishing, gardening and traveling.
Mary's family includes husband John, five children and ten grandchildren.
---
Voice of Democracy Banquet Tickets Shilo Inn, Portland Oregon January 28, 2017 TICKETS ON SALE NOVEMBER 1 Dinner Entrée: Choice of: Marinated Beef Tri-Tip (w/mashed potatoes) $35.00 Chicken Marsala (w/ rice pilaf) $30.00 Pacific NW Salmon Filet (w/ rice pilaf) $35.00 Chef's Choice of Vegetarian Meal $30.00 All dinners include: Garden Salad, Chef's choice vegetables, Rolls & butter, and the best Carrot cake Lunch: Baked Potato Bar (Baked Potato, butter, cheese, onions, bacon, chili, sour cream & chives $15.00 If you have allergies or special diet, please let department know so we can notify the banquet service. ALL SEATS WILL BE RESERVED AND PAID FOR AT THE TIME OF ORDERING (NO EXCEPTIONS) If you plan to sit as a group, all money and names must be sent in together also, please note if you have a big group and will take up more than one table please list who will sit at each table. ALL Tables will have a seating of TEN TICKET DEADLINE JANUARY 16, 2017 PLEASE SEND DISTRICT WINNER SEPARATELY DEPARTMENT PAYS FOR THE DISTRICT WINNERS AND THEY WILL SIT AT THE HEAD TABLE. BEEF TRI-TIP $35.00 Qty: _______ NW SALMON FILET $35.00 Qty: _______ TOTAL MONEY ENCLOSED CHICKEN MARSALA $30.00 Qty: _______ $______________ VEGETARIAN MEAL $30.00 Qty: _______ LUNCH: BAKED POTATO BAR $15.00 Qty: _______ NAME: ________________________________________________________________________ ADDRESS: _____________________________________________________________________ CITY: __________________________ STATE: _____________ ZIP: ___________________ ADDITIONAL NAMES: ___________________________________________________________ __________________________________________________________________________________ DISTRICT: ___________ POST: ________ PLEASE MAKE CHECKS PAYABLE TO: DEPARTMENT OF OREGON VFW WE ALSO CAN ACCEPT VISA/MASTERCARD SEND TO: VFW DEPARTMENT OF OREGON, 12440 NE HALSEY ST, PORTLAND, OR 97230 DEADLINE FOR ORDERING JANUARY 16, 2017 NO REFUNDS AFTER THIS DATE PICK UP BANQUET TICKETS SATURDAY AT THE CONFERENCE
---
VOICE OF DEMOCRACY/MID-WINTER
28 JANUARY 2017
Shilo Inn Suites –Portland Airport
Rooms: 2 Queen or 1 King $94.00 plus tax
Contact info:
Shilo Inn Suites- Portland Airport
11707 NE Airport Way
Portland, OR 97220
503-252-7500
Request: Veterans of Foreign Wars
Group block
Reservation Deadline is: 29 December 2016
---
AGENDA
DEPARTMENT OF OREGON
MID-WINTER CONFERENCE
&
COUNCIL OF ADMINISTRATION
SATURDAY, JANUARY 28, 2017
10 am – Joint Opening with VFW
           Introduction of Guests introduce Mary Stroud National District Council Member #17, Officers, PDPs, and District Presidents
           Program Reports (joint)
                                Morning session itinerary is at discretion of Dept. Commander
1 pm – Auxiliary Session     (conducted as a regular meeting with all ritualistic work)
           Program Reports – all chairmen
           Announcement of Convention appointments
           Guests will speak
           Question and Answer Session
6 pm – Voice of Democracy Banquet
                Uniforms – morning and afternoon sessions
                Semi-Formal – banquet (most will wear long dresses, but not extremely formal)
SUNDAY, JANUARY 29, 2017
8 am – Council of Administration meeting
           (should be finished by 11:30am      Dress is casual )
any questions? – contact Jan Halverson, Department Secretary, PO Box 34, Kahlotus, WA. 99335,
Phone 509-282-3494, or jannyh61@hotmail.com
Copies to:  Nat'l. Headquarters
Mar Stroud, Nat'l Council Member #17
---
WEBSITE CONTACT INFORMATION:
Please send anything you want put on the web page to JessieStober@Molalla.net. Make sure it is in Word and is sent as attachment. Also please make sure there is a subject of where you want the information to go (ie Membership, Events, Americanism, ect.) Thank you, Jessie

Print Friendly