New Membership Applications are available on the National Website.  Please make sure you are using the new forms while recruiting new member.
---
Mid Winter Hotel and Banquet information is located under Events-Upcoming Events and in the Newsletter portion of the website, both are located under the News tab.
---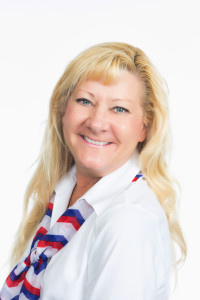 Mary Stroud
National District Council Member #17
2015-2017
Mary Stroud, of Hawthorne, Nevada, represents Nevada, Oregon and Utah on the National Council of Administration, which governs the Veterans of Foreign Wars of the United States Auxiliary between National Conventions.
Installed at the 102nd National Convention in Pittsburgh, Pa., she will serve a two-year term as one of 28 representatives who make up the Council along with the top seven National Officers, the National Chief of Staff, and the four Junior Past National Presidents.
A Life Member of John Franklin Shain Auxiliary #2313, she has served in many capacities for the organization including Auxiliary, District and State President. On the National Level she has served as Western Conference Chairman for the Legislative program.
She joined on the eligibility of her grandfather W. Jay Houtz, who served in the Navy 2nd Marine Division 1943-1946.
In her spare time she enjoys cooking, writing, painting, sculpting and many forms of dancing. She loves superhero movies, comic books and animals.
---
YVONNE DENNIS
All Auxiliaries are to drape their Charter in Memory of Past Department President Yvonne Dennis who passed away on January 5, 2016.
Cards may be sent to her daughter at:
Kerlyn Staffenson
391 NE Valley Ridge Lane
Newport. OR 97365
Jan Halverson, Department Secretary
---
UNTIL FURTHER NOTICE WHITE CITY WILL NO LONGER BE ACCEPTING WOMEN'S CLOTHING!!!!
---
AUXILIARY SECRETARIES
Please be sure to send me any changes in your President, Secretary, Treasurer or change in your Auxiliary dues, as soon as the change happens. Also please send a copy of the change or correction to National Headquarters, the address for National is on the bottom of the form. This is very important!!!!!!! If you have any questions fell free to call or email me.
Thank you,
Jan Halverson
Department Secretary
509-282-3494 jannyh61@hotmail.com
---

AUXILIARY TO THE VETERANS OF FOREIGN WARS
DEPARTMENT OF OREGON
GENERAL ORDERS #4
2015-2016 series
JANUARY – FEBRUARY, 2016
MUST BE READ AT THE FIRST REGULAR MEETING
FOLLOWING RECEIPT BEFORE BEING FILED FOR REFERENCE
THE OREGON VFW AUXILIARY WEB SITE SHALL BE DEEMED SUFFICIENT AND LAWFUL
NOTICE TO ALL DEPARTMENT MEMBERS FOR ANY AND ALL PURPOSE
1. TRUSTEES: The audit for October, November December 31, 2015 and is conducted during the month of January and due to the Department Treasurer by January 30, 2016.
2. TREASURERS: Members who have not paid their 2015 dues are no longer members in good standing and cannot attend meetings, hold office, or be a program chairman or receive a cancer grant if otherwise eligible. Therefore, it is most important that you send notices. Remember, there are no more dues notices mailed from National. Payment of dues immediately reinstates all privileges.
3. Please be reminded that ALL monies received by a VFW Auxiliary are to be given to the VFW Auxiliary Treasurer for deposit to the proper account of the VFW Auxiliary at all levels. Checks made out to the VFW Auxiliary are never cashed by any member other than the Treasurer for any purpose.
4. Please make sure the Creative Patriotic Art Program has been presented to your schools. Entries must be to the VFW Auxiliary Chairman no later than March 31, 2016. VFW Auxiliary winners must be to the Department Chairman by April 15, 2016. If you have multiple entries submitted to your VFW Auxiliary, consider asking a neighboring VFW Auxiliary to sponsor some. Please also consider donating money to help with the awards for our Department winners. Remember brothers and sisters, this is OUR program.
5. Now is the time to check and see if your VFW Auxiliary has met all the donations for the year. You still have time to participate in any programs lacking. Please work toward being 100% participating.
6. VFW Auxiliary packets will be disbursed at our Department Mid-Winter meeting January 23, 2016. These packets will include your year-end reports, delegate forms for District, Department and National Conventions, and forms for your elections. If your VFW Auxiliary is not in attendance, your packet will be mailed or delivered to you by February 15, 2016, by the Department Secretary or your District President.
7. Notice has been received that the National Representative at Mid-Winter Conference will be National Council Member District #17 Mary Stroud from Nevada.
8. By order of National President Francisca Guilford, the Charter of George L. Wright Auxiliary #4015 is hereby cancelled as of December 30, 2015.
BY ORDER OF                                                                                                ATTEST
ROSE MARIE ALLYN                                                                                 JAN HALVERSON
DEPARTMENT PRESIDENT                                                             DEPARTMENT SECRETARY
---
Veteran and Family Support Fundraiser
We are asking once again for each District in the Department of Oregon to provide one basket for a Silent Auction to be held at the State Convention at the Kah-Nee-Ta Resort and Spa in Warm Springs June 8 through 12, 2016. All proceeds from the Auction will go to the National Veterans Services and Veteran & Military Support Programs.
Need some ideas for themes? How about a wagon filled with gardening supplies; a colander filled with kitchen items; a basket of goodies for "game night"; a large popcorn bucket filled with "movie night" snacks; a "road trip" basket filled with snacks and activities for the road; an assortment of lottery tickets; fill a basket with chocolate items; an ice bucket with a wine selection, the possibilities are endless! Of course you don't have to have a theme for your basket. Just fill something with random items that you think people might be tempted to bid on.
Please ask each Auxiliary in your District to provide something for the basket and bring it to Convention. Let's raise some money for these important programs and have fun competing to win something fabulous!
---
WEBSITE  CONTACT INFORMATION:
Please send anything you want put on the web page to orauxweb@outlook.com. Make sure it is in Word and is sent as attachment. Also please make sure there is a subject of where you want the information to go (ie Membership, Events, Americanism, ect.) Thank you, Chris Website person

Print Friendly