---
DELEGATE FORM CORRECTION
SEND 1 COPY TO SONYA SALLEE WITH YOUR MONEY
SEND 1 COPY TO 
JAN HALVERSON
PO BOX 34
KAHLOTUS, WA  99335
PLEASE DO NOT SEND A COPY TO IONA KLINE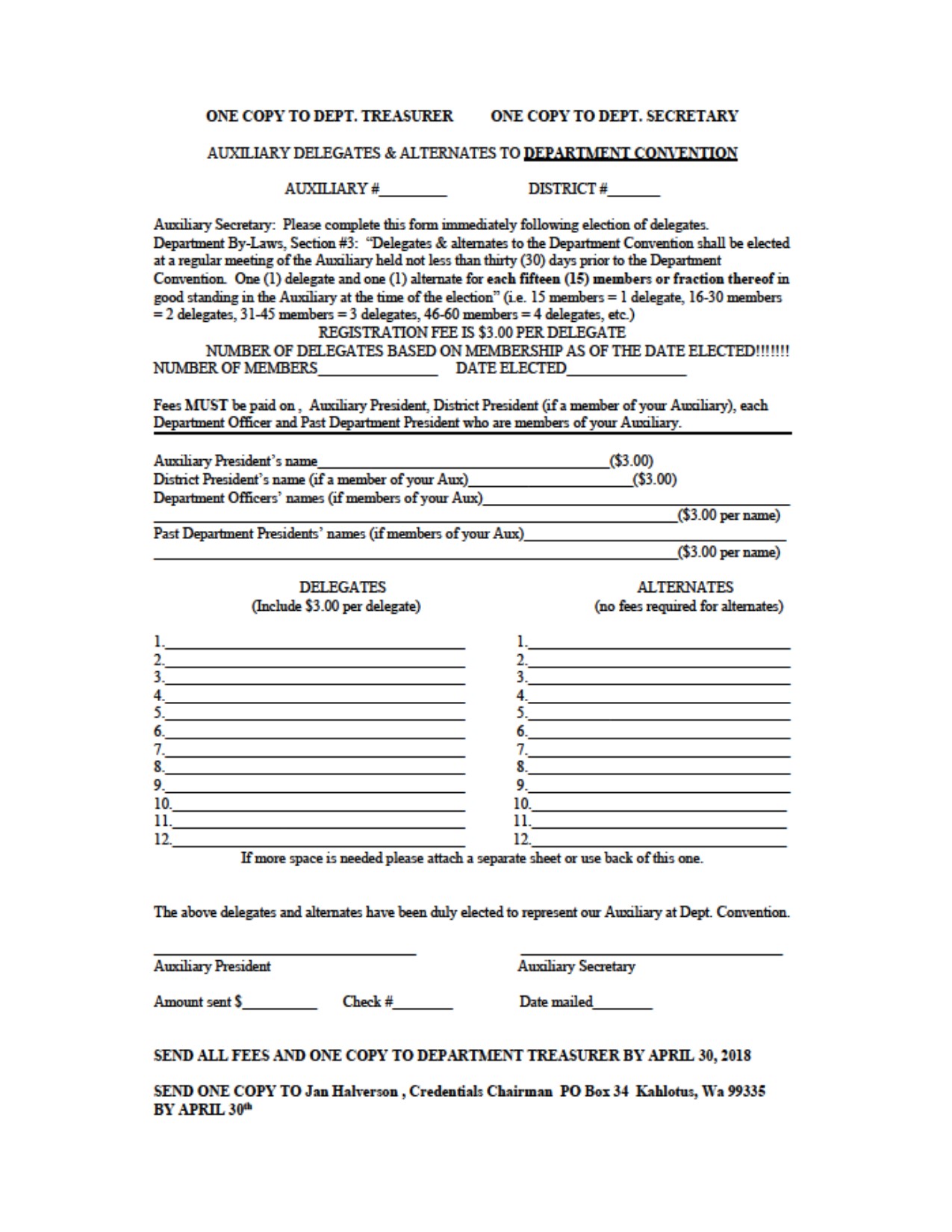 ---
Please Drap Charter at your next meeting for:
Passed Department President 1992 – 93
Deana Cornmesser  02 – 03 – 2018
---
Congratulations Department of Oregon Auxiliary Members!
You Rock!
We Made Our 2nd Membership Goal!
Keep up the Good Work.  We have 175 member to go to reach our 3rd and 4th Membership Goals!
---
OFFICIAL RULING
---
PRESIDENT MESSAGE January 2018
Happy New Year to you all,
I can't believe we are halfway through the year already. I hope you all had a wonderful Christmas.
We are well on our way to achieving our goals. I have been informed by Sonya that many Auxiliaries haven't payed their obligations to the Hospital or your Health and Happiness to the National Home.  Please get these in right away.
Please make sure that we remember our Homeless Veterans during the cold winter months.
I am looking forward to seeing many of you in Newport for Mid Winter Conference. Keep up the good work you are doing and don't forget to report your work to your chairmen.
Please make your plans for convention soon. We are looking forward to seeing many of you in Kah-Nee-Ta. We have some surprises in store. It will be fun.
---

OREGON VFW AUXILIARY
The Oregon VFW Auxiliary was founded for the soul purpose of serving those who have protected our country and see that they are protected in return. How do we achieve this goal?
By reaching out with help in communities across America.
Offering innovative programs
Standing up for veterans rights in Washington, D.C.
We can't do this without your generosity. Please consider a tax deductible donation to your Oregon VFW Aux.

Print Friendly