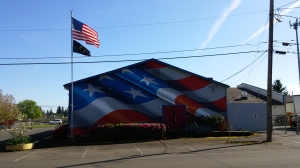 VFW Post/Auxiliary 4248 wanted to show everyone what their Post home looks like. As soon as I can figure out how to get this on with the rest of the pictures that scroll through they will be added to that line up.  If your Auxiliary would like to have photos on the web site please send them to orauxweb@outlook.com as an attachment and I will be more than happy to get them on the website.  Thank you so much VFW Post/Auxiliary 4248 for sharing this really cool picture of your building.  Chris, website editor
---
ALL OF THE NATIONAL RESOLUTIONS AND RITUAL CHANGES ARE AVAILABLE TO VIEW ONLINE ON THE NATIONAL WEBSITE. IF YOU HAVE ANY QUESTIONS OR PROBLEMS LOGGING ON TO THEIR SITE PLEASE FEEL FREE TO CALL JAN HALVERSON, DEPT SECRETARY, FOR ASSISTANCE.
---

LADIES AUXILIARY TO THE VETERANS OF FOREIGN WARS
DEPARTMENT OF OREGON
GENERAL ORDERS #6
MAY – JUNE 2015
MUST BE READ AT THE FIRST REGULAR MEETING FOLLOWING
RECEIPT BEFORE BEING FILED FOR REFERENCE.
THE OREGON AUXILIARY VFW WEB SITE SHALL BE DEEMED SUFFICIENT AND LAWFUL NOTICE TO ALL DEPARTENT MEMBERS FOR ANY AND ALL PURPOSE.
THANK YOU TO THOSE Ladies Auxiliaries that helped sponsor a Patriot Art entry.
The first Council of Administration meeting for 2015-16 shall be held Sunday, June 7, 2015 at The Mill Casino and Resort in North Bend, OR.
Department Officers who will not be attending Department Convention must notify the Department President immediately and must mail their Department badge to the Department Treasurer (insured). Those failing to return their badge will be charged for the cost of replacement.
Any Ladies Auxiliary failing to have four (4) consecutive audits for 2014-2015 on file with the Department Treasurer and complying with Section 814 of the National Bylaws, the office of President and Treasurer bonded, and other financial obligations or supply money to National Headquarters, will be denied voting privileges on all levels. All rights shall be promptly restored upon proper adjustment of such deficiencies.  See Section 309, page 37.
Please make sure the Report of Election and Installation of Officers is mailed immediately after the Installation of Officers to the Department Secretary or input online by the Auxiliary Secretary in accordance with instruction received from the Department Secretary
Department Officers and Chairman: Please mail any vouchers you have to the Department President ASAP. All vouchers must be in by May 20th unless related to the Department Convention expenses.
Ladies Auxiliary Schools of Instruction will be held in Molalla on 8/1/15, Sutherlin Community Center on 8/8/15 and Pendleton on 8/15/15. All members should plan on attending a School of Instruction as there are more changes occurring during the upcoming year.
There is no proxy voting in any Auxiliary elections. (See Demeter's manual).
All auxiliaries are to Drape their Charter for thirty days in Memory of Past Department President JoAnn Seifer who went to heavenly home on march 22, 2015
BY ORDER OF:                                                                     ATTEST:
Linda Rose                                                                            Jan Halverson
Department President                                                      Department Secretary
---
WEB SITE  EMAIL ADDRESS CHANGE
The Auxiliary web site has a new web master. Please send anything you want put on the web page to orauxweb@outlook.com. Make sure it is in Word and is sent as attachment. Also please make sure there is a subject of where you want the information to go (ie Membership, Events, Americanism, ect.) If this is not possible for you to do please send it to me either by email or snail mail. THANK YOU very much Jessie Stober for all the work you have done getting this web page up and running for the Department. Jan Halverson, Department Secretary.

Print Friendly